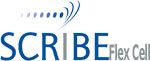 CD DVD Production Systems for large and commercial applications.
MF Digital ushers in a new era of commercial CD & DVD Duplicator production equipment. Designed for the Commercial Duplicator, the Scribe 9000 Flex Cell Series is ideal for large run duplicating, printing and quick-turn production needs. Built-in redundancy factors provide unparalleled performance with piece-of-mind that every job submitted, duplicated and printed is processed with 100% accuracy and traceability.
---
Scribe 9000 Flex Cell Commercial Series
CD DVD Duplicator Production System
| | |
| --- | --- |
| Large Capacity | Largest commercial duplicator system available. 16 CD DVD drive system with 1,200 spindle capacity. |
| High End Quality | Mission critical, Hi-speed, 24/7 loader mechanisms for lights out operation and heavy-use applications.. |
| Simplicity | Standalone system no PC required. Control Multiple Flex Cell from one Software interface. Free Network Client. |
Overview
The Scribe 9000 Flex Cell Production Duplicator offers powerful production DVD Duplicator and CD Duplicator solutions pre-configured in a ready to run Duplicator Flex Cell. The Scribe Flex Cell provides unsurpassed performance and reliability; designed and manufactured for the most demanding applications, Flex Cell from MF Digital is a safe and smart business investment
---
Scribe 9000 Flex Cell Print Station Series
CD DVD Printer Production System
| | |
| --- | --- |
| 3 Print Technologies | Configure all with Inkjet, Thermal Transfer or Dye Sublimation printers or mix-n-match to your needs. |
| Seamless Interface | Assign single module per job or allocate entire system for optical performance and throughput. |
| Expandable | All Flex Cell systems may be configured with additional modules to fit the most demanding environments. |

Overview

The Scribe 9000 Flex Cell DVD CD Print Station Series is a print system powerhouse. Designed for use with Inkjet, Thermal and Dye Sublimation printers; mix-n-match printer technologies to fit your exact needs. The Scribe Flex Cell Print Station has the largest input spindle capacity available on the market today. Compliment the Flex Cell Print Station Series with the Flex Cell Commercial DVD CD duplicator solution
---
Scribe 9000 Flex Cell Quick-Turn DVD CD Duplicator System
CD DVD Duplicator Production with In-Line Printing
| | |
| --- | --- |
| Advanced Movement | Our Asynchronous CD DVD duplicator with printer allow drives and printer to work independently. |
| Spindle Select | Intelligent spindle select, system automatically selects CD or DVD media for uninterrupted production. |
| Flexible Configurations | 1,200 disc capacity. Configure in-line printing with Inkjet, Thermal or Dye-Sub printer. |

Overview

The Scribe 9000 Flex Cell Quick-Turn Series is an excellent solution for the Commercial DVD CD Duplicator. Control any number of Flex Cell systems through one control panel. Submit jobs to individual modules within a Flex Cell for disc burning or printing or use multiple Flex Cells for true mass production. Witha large disc capacity and drive configuration available the Flex Cell Quick-Turn system can handle any duplication job.
---
Scribe 9000 Flex Cell Series CD / DVD Duplicator Series
The MF Digital Scribe 9000 Flex Cell Series is a powerful, automated commercial CD DVD duplicator system. The sell contained DVD CD Duplicator System functions via an easy-to-use software interface with a centralized control panel. Requiring no PC, the Scribe Flex Cell Series is available in 4 and 6 drive configurations, with or without printing. Further, the Scribe 9000 Flex Cell Series has Disc Printing configuration options to include in-line CD Inkjet Printing, CD Thermal Transfer Printing, and in-line Dye Sublimation Printing. The Scribe Flex Cell Series from MF Digital is truly a turnkey, lights-out Disc DVD CD Production System.
Scribe 9000 Flex Cell DVD CD Duplicator Series Configuration Options:
MF Digital provides configuration options to enhance the performance of your Scribe Flex Cell Series Production System. Configuration options include: